New Patients at ChiroActive
ChiroActive offers a calm, quiet atmosphere where all ages will feel welcome. Adults and children alike are seen at our warm, friendly, energetic practice. The digital forms for a new patient visit are sent ahead of time so your chiropractor can review them before meeting with you.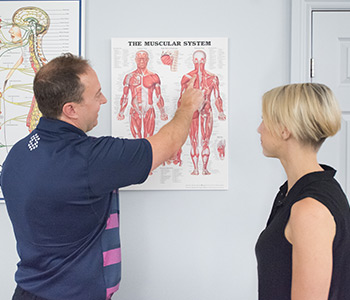 Your First Visit
When you arrive at our clinic, you'll get a VIP welcome from our team. Your chiropractorwill meet you and sit down to talk about what's brought you in and answer your questions. After that, your chiropractor will have you lie down on the chiropractic table and start assessing your spine using orthopedic and neurological tests. We will check how your spine moves, identify misalignments and restrictions, and check your posture and range of motion and your nervous system. We may use other tools such as a walking gait scan or a thermal scanner.
As we move through our exam we are continuously letting you know what we're finding so you are part of the process. Our patients often comment on our thorough examination and how we take the time to explain our findings. If x-rays are recommended then we will give you a requisition to get them done at a nearby lab, covered through OHIP at no charge. If we feel we can start chiropractic care that same day, we will discuss a range of adjustment techniques and agree on which ones you feel comfortable with and then begin treatment.
This appointment takes approximately 30-45 minutes.
*CANCELLATION POLICY UPDATE: EFFECTIVE MAY 4 2023* »
Should you wish to cancel or reschedule an appointment, please advise by canceling your appointment online
within at least
*24 hours to avoid a possible fee*
If you are canceling _with less_ than*24 hours notice please call/email the clinic _or_ your practitioner
if you cannot get ahold of the clinic*
Cancellations/No shows with less than 24 hours notice may be subject to a fee. If we have not received communication from you in regards to canceling your appointment the credit card on file may be charged by
the end of the business day.
Please note, this decision is at the discretion of your practitioner. We appreciate your trust and cooperation!
Your Second Visit
When you return for a report of findings, your chiropractor will review all the findings from your examination and X-rays if you had them taken. We'll explain how the results relate to your current condition and how chiropractic care can help. We will review the diagnosis and a treatment plan that's centered around achieving your goals, and discuss at-home, and lifestyle strategies to help the process along.
You'll then finish up by receiving an adjustment and be on your way.
This visit takes about 30 minutes.
Regular Visits
At your follow-up appointments, your chiropractor will chat with you about any changes in your symptoms, and discuss any new tips for at-home exercises or lifestyle. After that your chiropractor will briefly re-assess your condition, then you will get an adjustment, then you'll be on your way!
Do I Have to Go Forever?
At our office, everyone has a choice. Most of our patients have achieved the best results and continue to see them with wellness or lifestyle care that goes far beyond pain relief. Once corrected, it's easier to control flare-ups and reach your health goals. The frequency of this type of care is different for everyone, and it's your decision.
Ready to Get Started?
We can directly submit to most insurance companies so that they are reimbursed, and there are some we can bill directly to. Contact us today to find out more or to book your time!
CONTACT US »

New Patient Centre Stittsville, Carleton Place ON | ChiroActive