Meet Dr. Trina Parry
Finding the Chiropractic Solution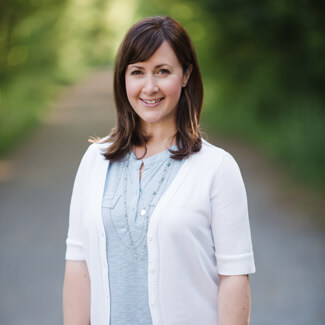 Dr. Trina's first encounter with chiropractic was in high school when she started suffering from recurring neck pain and headaches. "My mom and my brother experienced them as well, so I thought it was normal. I went to the chiropractor, and it changed my life. Not only did it help relieve my symptoms, but over time it corrected the problem so neck pain and headaches weren't a part of my life anymore. There are so many people living with chronic problems that think it's their genetics or that there's nothing they can do. Chiropractic is a natural way of identifying and treating the root of a problem."
Delivering Excellent Care for Families
To become a chiropractor, Dr. Trina completed her Health Sciences degree at the University of Western Ontario, and then went on to attend Canadian Memorial Chiropractic College. After beginning practice, she earned an extra certification in pediatric care and the Webster Technique from the International Chiropractic Pediatric Association (ICPA). She enjoys having a family wellness practice, emphasizing care for expecting moms and kids. The additional education she's undertaken has allowed her to provide care to all members of the family and many different types of cases.
EXPLORE CHIROPRACTIC »

Living a Balanced Life
Outside of work, Dr. Trina is passionate about Zumba. She teaches weekly Zumba classes with a team of instructors. That trend carries over into her home life, where spontaneous fun family dance parties have been known to take place. She and Dr. Brian have two children, Ty and Tayah. They prioritize quality family time together and like to go for bike rides, swim, and walk the family dog Milo.
Like many moms, Dr. Trina strives to have balance in her life and prioritizes that her children are healthy and happy. In today's busy world it can be a juggling act to find enough time to eat well and exercise which is why you'll often find Dr. Trina hitting the gym early in the morning for a great start to the day.
Contact us today for more info! We look forward to meeting you.

Chiropractor Stittsville, Carleton Place ON | ChiroActive