Meet Dr. Brian Martyniuk
An Early Interest in Health and the Human Body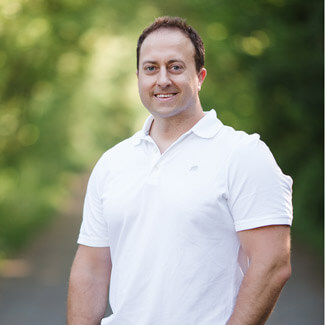 The son of an engineer and nurse, Dr. Brian was interested in biomechanics, physiology and sports when he was younger. When he was 16, a chiropractor came to his high school to speak and instantly, he was interested in the profession. "I wanted to help people live life to the fullest." His mom became ill, and it made Dr. Brian certain that chiropractic was the right path to follow.
He attended Canadian Memorial Chiropractic College, learning from instructors who were a model of healthy living. They balanced fitness and their families, and Dr. Brian respected them and knew he wanted to find that same stability.
Creating a Warm, Caring Health Care Centre
Dr. Brian worked in the UK after his graduation along with his wife, Dr. Trina. While there, they decided to open two family practices back home in Ottawa that offer a caring, friendly environment for people. His patients love his humorous, outgoing, chatty nature and value the entire experience of their care at ChiroActive. With a healing environment and dedicated team, we want to make each of your visits pleasant and effective.
He's undertaken additional training in Active Release Techniques® and is certified in the Webster Technique.
EXPLORE CHIROPRACTIC »

Outside of the Office
As a former personal trainer, Dr. Brian is interested in health and fitness. He likes to cook healthy food and stay active by going to Movati Athletic. He and Dr. Trina have two children, Ty and Tayah, and a dog, Milo who is their "firstborn." They like to take him to Stittsville Dog Park. Dr. Brian also plays hockey in Beckwith, has played for the Stittsville Men's Hockey League and sponsors hockey teams in Carleton Place and Stittsville.
Dr. Brian Martyniuk's Chiropractic Hours:
Schedule your appointment at one of our two locations today! We offer same-day appointments and accept walk-ins.

Chiropractor Stittsville, Carleton Place ON | ChiroActive